It's Time for our 25th Anniversary Concert!!!
                                                Wednesday, April 26, 2023, 7:30 pm
                                   St. Patrick's Church in Oak Bay (2060 Haultain St.)
                  Admission by donation to benefit Ukrainians arriving on Vancouver Island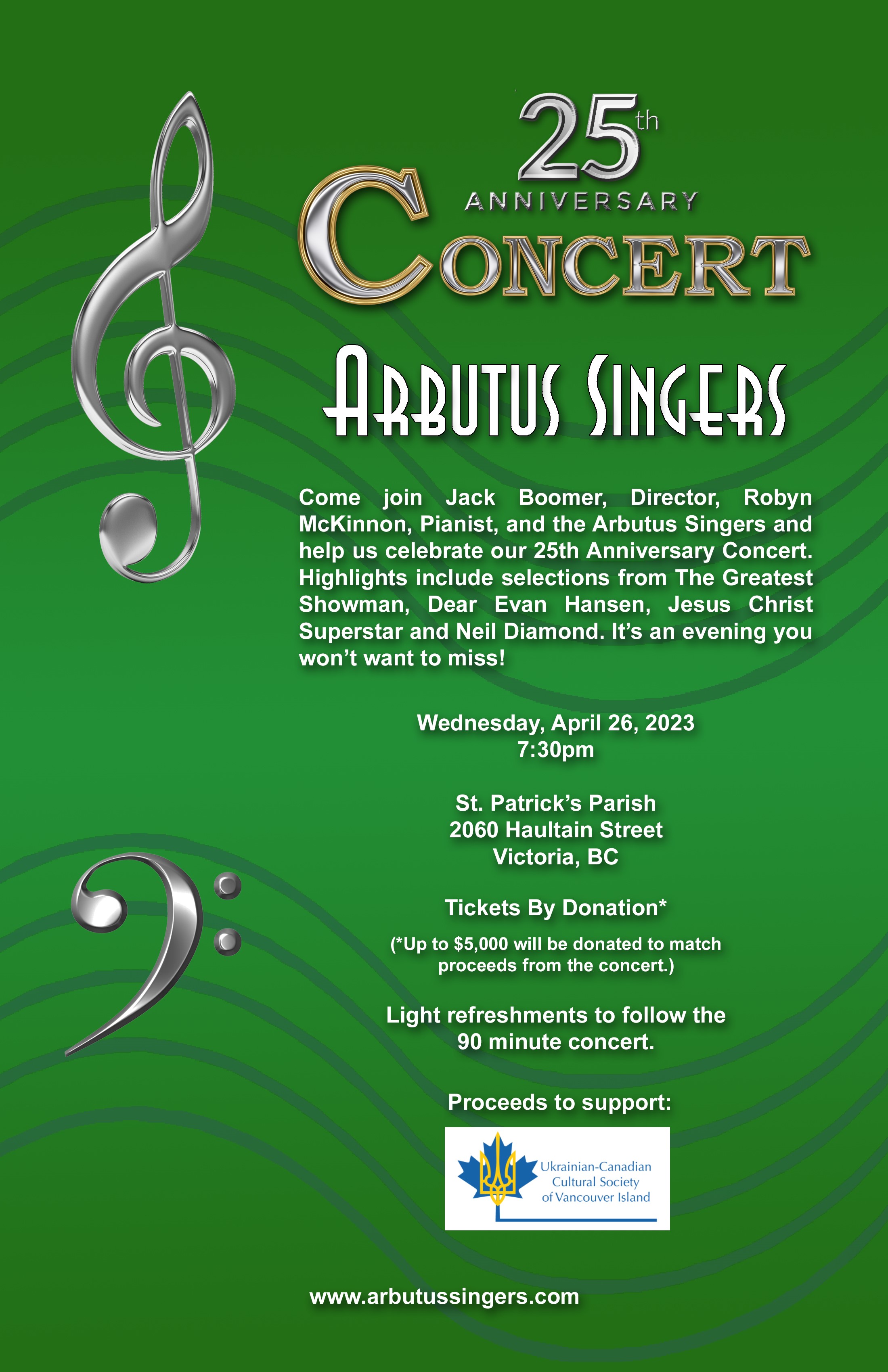 Media Release
April 21, 2023 
Arbutus Singers 25th Anniversary Choir Concert to benefit Ukrainians Arriving on South Vancouver Island
St. Patrick's Parish is teaming up with the Arbutus Singers who will host a concert to benefit Ukrainians arriving on Vancouver Island.  The 25th Anniversary concert will be held on Wednesday, April 26th at 7:30 pm at St. Patrick's Church in Oak Bay (2060 Haultain St.).   The Arbutus Singers is an inspired, disciplined 60-member Victoria-based choir founded and directed by Jack Boomer and accompanied by Robyn McKinnon.   The 90 minute concert will include selections from Phantom of the Opera, Dear Evan Hansen, Jesus Christ Superstar and the Greatest Showman.
"We are absolutely delighted to partner with the Arbutus Singers to support Ukrainians arriving on Vancouver Island," said Fr. Hann, the Parish Priest.   Fr. Hann added, "We want to support those who have been affected by this unjust war and, are delighted to lend our support by offering a place for the concert and to actively encourage donations from our parish community and individuals across Greater Victoria.  We are also providing light refreshments following the concert."
Jack Boomer, the Director of the Arbutus Singers and his partner, Stephen Hammond are offering to match donations, up to $5,000.   Stephen Hammond noted, "Human rights are of utmost importance to me and Jack and we want to do our part to offer support.   With the Arbutus Singers celebrating their 25thanniversary, what better way to offer support than to encourage others to donate."
Donations can be made through http://www.stnicholasparish.org/donate-to-help-ukrainians-arriving-on-south-vancouver-island/ or by writing a cheque to "St. Nicholas Parish – the Newcomers Fund".
"We look forward to seeing you at the concert on April 26 as it will be a very memorable and enjoyable night," added Boomer.
For more information, go to www.arbutussingers.com.
Contact:
Stephen Hammond         250 858 9475
Jack Boomer                     250 589 4268
What's for Dinner?
With plenty of spare time on our hands, the members of the Arbutus Singers created a cookbook of their favorite recipes.  The link to the electronic version is below, but if you're interested in a hardcopy (or more – they would make a great Birthday or Christmas present!!!) please let us know using the Contact Us page.
Tastefully Yours – Serenade and Marinade with the Arbutus Singers
Events List
We're back!!!  We've started rehearsals and will be performing for you at Christmas and in the spring.
During the Covid pandemic, our in person rehearsals and concerts were put on hold, but that didn't mean we sat around twiddling our thumbs.  Check out our distanced performances of a couple of our favorites:
June, 2020:  Somewhere Over the Rainbow
November, 2020: Hallelujah